How to Add Audio Effects to Audio to Make it Special?
Do you want to make your finished recordings or an audio file received from friends polished and professional? Audio Editor for Free is just what you need! It has the ability to fulfill all the missions like cutting, pasting, editing and applying any audio effects including compression, EQ, fade in/out, delay, chorus, reverb, time stretching, pitch shifting and more. It has an impressive list of supported audio formats including M4A, WAV, MP3, AAC, FLAC, OGG, etc. and it is claimed to be so easy to use that even a tyro won't get lost in it.
After launching Audio Editor for Free, click "Home - Open" and in the activated window, select an audio file to edit and click "Open" to input it in the program window.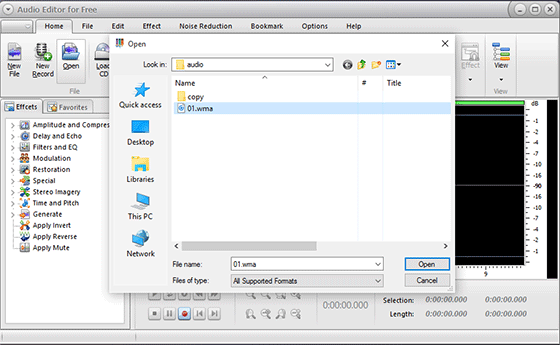 There provided some ways for you to choose a section of the audio: use hotkey like Shift+Home, Shift+End or Ctrl+A to select from start/end or all; Click the left button and drag along with the waveform to the place you want to select; move the sliders below the waveform to specify the beginner & end of the session; specify the start, end and length of time at the bottom of the editor.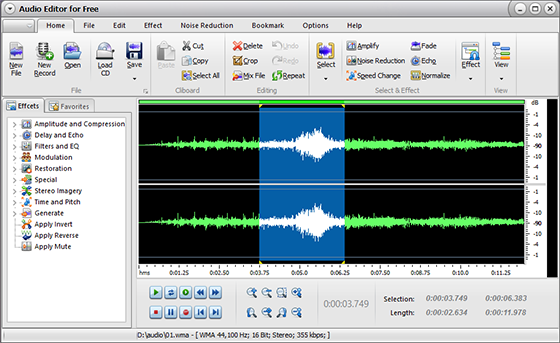 Switch to "Effect" tab and you will find any audio effects you need: echo, vibrato, amplify, chorus, fade, filter, pitch change, mix, invert... When you click one of those effects, an activated window will pop up that you can specify detailed parameters or apply some popular presets to adjust the effect. You can listen to the music before applying the effects to the waveform by clicking "Preview", making sure you get exactly what you want.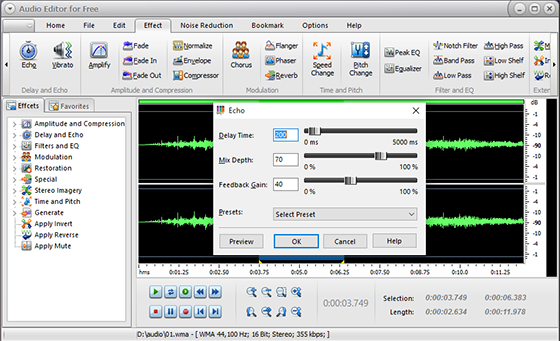 Go to "Home" tab, click on "Save" button and the edited audio file will be saved in the source folder with original file name. "Save File As" can also be used for saving the changes with a different file name and location.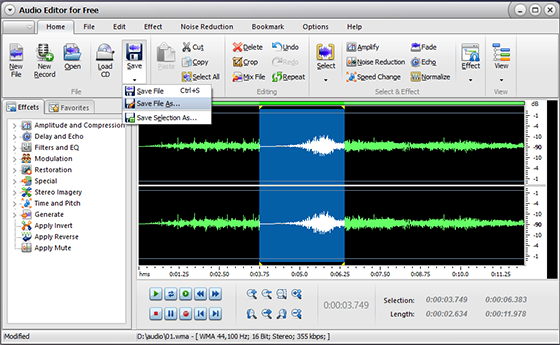 Related Topics:
More Useful Tips: